In recent years, the need for internet privacy has become more apparent. As more people become aware of the importance of keeping their online activities private, the tools that allow them to do so have become more widely available.
BulletVPN is an example of such a tool.
Estonia is the home of this virtual private network (VPN). BulletVPN operates outside of any known intelligence-sharing alliance as a result. We'll get to this important factor later and talk about why it's so important.
The VPN service has an above-average 4.4 rating on Trustpilot, based on 148 user reviews. The Google Play Store reviews, on the other hand, show an unimpressive 3.3 average rating with over 50k downloads. On the other hand, it has a fantastic 4.7 rating and a lot of positive feedback on Apple's App Store.
This odd mix of BulletVPN reviews fueled my resolve to learn more about how well this VPN compares to the industry's best providers and whether it has your back online.
Features of BulletVPN
BulletVPN, like many others, has a wide range of features. Let's take a look at what they have to offer.
Kill Switch
Even the best VPN service cannot guarantee 100% uptime. As a result, you can expect your device and the VPN's server to disconnect at some point, leaving your data vulnerable to malicious actors.
When this occurs, a kill switch can make all the difference. When it goes into action, it automatically disables your internet traffic. This eliminates the possibility of data leaks.
The kill switch in BulletVPN is disabled by default, but you can enable it with a single click.
Multi-Platform Support
BulletVPN works with a wide variety of devices. BulletVPN is available for Windows, Mac OS X, Linux, Android, iOS, Android TV, and the Nvidia Shield.
On these platforms, you can also manually set up a variety of protocols. On the website, you'll find configuration files as well as detailed instructions on how to install them.
That's not all.
BulletVPN is also compatible with Xiaomi, Huawei, DD-WRT, Tomato, and Tenda routers.
There is currently no solution if you prefer the isolated protection of a browser extension.
Simultaneous Connections on Multiple Devices
BulletVPN can be used on up to 6 devices at once with a single account, making it a good choice if you have multiple devices or want to share the service with family or friends.
It is impressive, even if it does not have the highest number of simultaneous device connections on the market. While IPVanish allows you to have an unlimited number of connections with a single subscription, top-rated ExpressVPN only allows you to have five.
Unlimited Bandwidth
BulletVPN will never run out of data, no matter how much you use it. On Disney+, you can go on streaming marathons without fear of being cut off.
Users of both the paid plan and the BulletVPN free trial version have unlimited bandwidth.
You can also achieve faster speeds by routing through uncongested servers with unlimited server switching.
Advanced Features of BulletVPN
Unfortunately, there are no Stealth VPN or Double VPN options. BulletVPN, on the other hand, has a few advanced extras in addition to the expected standard features.
BulletShield
BulletVPN's kill switch has a feature called BulletShield that works in conjunction with it. This added security prevents your device from connecting to the internet unless it is connected to one of the company's servers.
BulletShield works in tandem with the kill switch, which must be activated in order for the former to function. All internet traffic is routed through the VPN with this feature enabled. When a VPN connection is lost — whether manually or automatically by the server — you are immediately disconnected from the internet.
Smart DNS
VPN apps may not be natively compatible with smart TVs, streaming devices, or game consoles. Smart DNS will be required to access geo-restricted websites or content on these devices.
BulletVPN offers Smart DNS as an alternative to the VPN if you want to watch a show on Prime Video or Netflix that isn't available in your country. Your DNS queries are routed through the service's own DNS servers, effectively masking your IP address.
This feature ensures faster speeds than you would normally get when using a VPN. Smart DNS can be set up in the network settings of your device.
On its website, you'll find Smart DNS guides for:
Nvidia Shield
Xiaomi Mi Box
Apple TV
Android TV
PS3 and PS4
Xbox 360 and Xbox One
Smartphones
Windows
macOS and several other devices
Servers and Locations of BulletVPN
BulletVPN has more than 155 servers spread across 55 countries. This limited network of servers may be adequate, but other services such as Private Internet Access or NordVPN will provide you with many more.
On the plus side, BulletVPN's extensive server network often results in faster connection speeds. You can choose from servers in the Americas, Europe, Asia, Africa, and Oceania to meet your needs.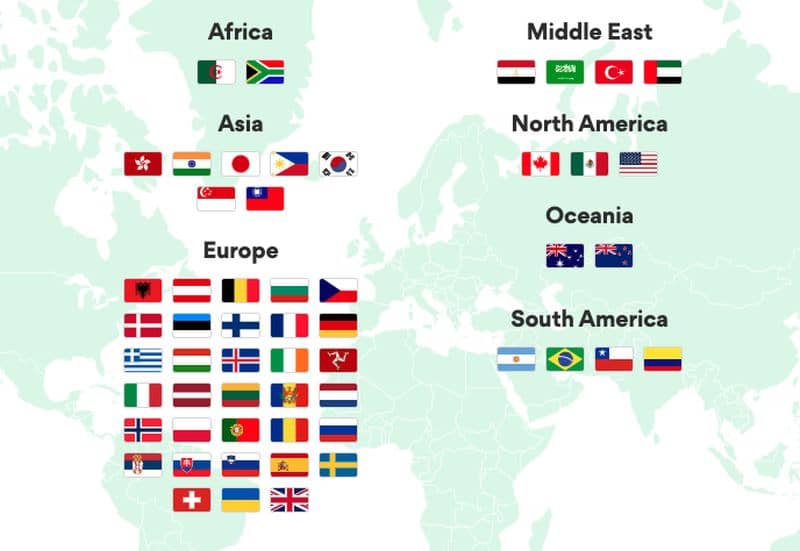 Having said that, a few of the servers that were tested did not work. While it isn't a huge deal, given the server network's limitations, you'd want as many options as possible.
BulletVPN Speed
BulletVPN boasts about its servers' performance as "speed of the bullet." VPN providers frequently advertise such capabilities, but this isn't always the case.
So, for this BulletVPN review, I put it to the test to see if it lived up to its name.
I determined my base speed using the online tool Speedtest by Ookla:

After that, I connected to a server in South Africa:

My download speed dropped significantly almost immediately. Because of the VPN's encryption, this drop was expected and unavoidable. Even so, it wasn't a huge drop, and there was no noticeable impact on performance. The upload speed, on the other hand, increased dramatically, possibly as a result of the VPN bypassing my ISP's throttling.
Then, from the BulletVPN server list, I chose one in the United Kingdom. The distance had a significant impact, with download speeds continuing to fall by more than 52%.

Further testing with a server in the United States revealed only a minor performance drop when compared to my UK connection.

Overall, the results of my tests indicate that connection speeds are acceptable. BulletVPN isn't the fastest VPN in the world, but it's fast enough for streaming and other online activities with little lag.
It's important to note that these tests should not be taken at face value. VPN speeds on this service are influenced by a number of factors. These include the speed of your ISP, the locations of BulletVPN servers, server load, and your preferred protocol.
BulletVPN Privacy and Jurisdiction
BulletVPN, which is based in the privacy-friendly Estonia, is unaffiliated with the Fourteen Eyes alliance. As a result, you can expect your personal information to be kept private.
BulletVPN has a strict zero-logs policy to help with this. Its Privacy Policy expressly states that it does not collect or store browsing and connection history, data transfer, DNS queries, or connection logs.
That being said, this, like most other providers, does not tell the whole story. The vendor, it turns out, does collect some information, including:
Data usage in total
Connections that are active
Server connection metadata
Information about yourself when you sign up
The final one may raise a few eyebrows, but it's fairly standard. Furthermore, with BulletVPN's headquarters in Estonia, you can rest assured that it is GDPR-compliant.
BulletVPN Protocols and Security
BulletVPN uses 256-bit AES encryption to keep your data safe. Your traffic is scrambled and unhackable with this industry-standard level of encryption.
PPTP, L2TP, IKEv2, OpenVPN, and WireGuard are among the tunneling protocols available. With the addition of WireGuard, BulletVPN pulls off a coup. This newer VPN protocol boasts increased speed and security.
When using Windows, the default setting is OpenVPN, which is suitable for the majority of tasks and effectively balances security and performance.
Results of the BulletVPN Leak Test
Top-of-the-line privacy and security features are great, but they're useless if your VPN leaks your DNS queries and IP address.
So, as with all of my reviews, I checked BulletVPN to see if there was a problem. I used the IPLeak website for this experiment.

The results were positive, indicating that the VPN service was leak-proof.
Streaming Services and BulletVPN
Due to copyright licensing agreements, some websites and streaming platforms limit their content to specific countries or regions.
As a result, streamable media is not equally accessible, with some countries and regions having greater access to content than others.
VPNs can help you bypass geo-restrictions, but some are better than others.
BulletVPN performed exceptionally well in unblocking streaming service content libraries.
I tried unblocking Netflix US using a server in California for testing purposes. It sailed past the platform's geo-block, allowing for seamless streaming with no lag. It worked just as well when trying to access Netflix websites in Canada and Germany.
BulletVPN unblocked Amazon Prime Video, Hulu, and Disney+ in addition to Netflix.
You have unlimited access to streaming content on multiple devices thanks to its Smart DNS feature. It's difficult to go wrong with that!
Is BulletVPN Good for Torrenting?
BulletVPN touts itself as the best VPN for torrenting and peer-to-peer file sharing. This boast isn't completely without merit. For starters, torrenting is supported on all of the provider's servers.
There are fewer risks when there is a kill switch and leak protection. Furthermore, download speeds are respectable, so your downloads won't drag.
BulletVPN encourages customers to use servers in P2P-friendly countries like Spain, Switzerland, and the Netherlands. On the other hand, it advises torrenters to avoid servers in the United Kingdom and the United States to avoid possible disruptions and throttling.
Is BulletVPN able to get around geoblocks?
Some governments restrict internet access in their physical territories to varying degrees. VPN use is forbidden upon by the governments of these countries, as it allows citizens to circumvent restrictions placed on their online activities.
China, for example, restricts internet and VPN use with its Great Firewall, a massive combination of laws and technology. As a result, there are very few VPNs that operate there.
BulletVPN's server list does not include any China-based options, but there is one in Hong Kong. Due to the lack of an obfuscation feature, this will allow VPN use in China, but with varying degrees of success.
User-Friendliness
The BulletVPN app has a simple, user-friendly interface. Simple and neat. While the user interface isn't particularly elegant, it is simple enough to use.
The BulletVPN Windows client looks like this: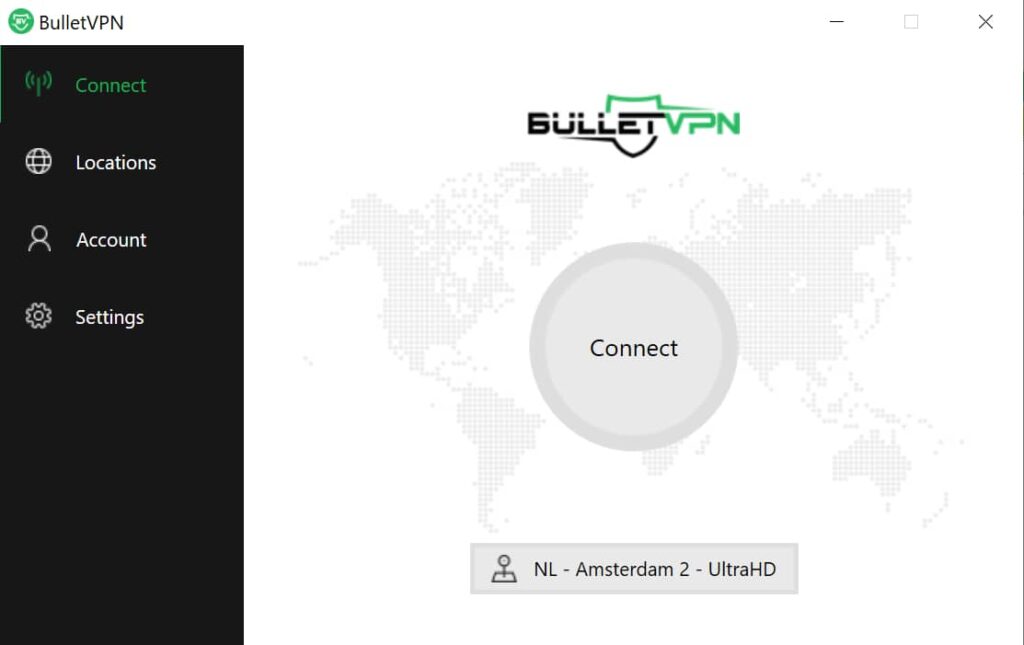 It is generally intuitive, with an installation process that is simple enough for even a novice to master.
BulletVPN can be used right away after installation without any additional configuration.
Connecting to one of the recommended servers listed in the dropdown menu is as simple as clicking the Connect icon. There is an easy way to switch between the available options.
BulletVPN can be used in a variety of ways, not just through the app. Many setup guides are available on the website to assist with manual protocol configuration. This option is more technical, but the tutorials are well-written and simple to follow, making it suitable for users who prefer a protocol client, such as OpenVPN's, to the VPN app.
Customer Support
The website has a wealth of tutorials, guides, and FAQs to help new and experienced users troubleshoot their problems. If you have any questions about BulletVPN, such as pricing or technical details, you'll most likely find an answer there. You can also contact a customer service representative via ticketing or email.
BulletVPN advertises a live chat feature that is available 24 hours a day, seven days a week, and the website includes what appears to be a live chat icon. When you click it, however, it transforms into an email box.
The lack of a live chat function isn't a big deal because agents appear to be available at all hours of the day and provide prompt and helpful email responses.
BulletVPN Pricing
BulletVPN's software does not come with a free version. However, if you use the Android app, you can sign up for a free 24-hour trial to give it a try before making a final decision.
As for price, BulletVPN has three subscription plans to choose from.
One Month – $10.98/month
One Year – $7.50/month
Three Years – $3.29/month
BulletVPN's price is higher than that of many competitors, and you'll need to sign up for three years to get a good deal. You can be confident in your decision to use BulletVPN because it comes with a 30-day money-back guarantee.
Verdict
Overall, I feel that BulletVPN is a decent VPN service.
There are a few drawbacks to consider, but what service doesn't?
Connection problems have been reported among Android users, which isn't surprising given BulletVPN's limited server list. It's also not the most affordable option on the market.
However, there are a number of reasons why you might want to use BulletVPN.
It's great for streaming because of its high-quality security and privacy features, and it can unlock services like Netflix and Hulu. BulletVPN is also very adaptable and can be used on a variety of devices. You've got yourself a dependable VPN service when you combine it with a location free of privacy-invading alliances.
Is BulletVPN something I would recommend?
I do — just don't use it with an Android smartphone.
FAQ
Does BulletVPN keep logs?
They do not keep logs of the websites you visit or what you do on those sites. They only keep logs of connection logs, i.e., time of connecting/disconnecting, duration, and amount of bandwidth usage. For more information, please see their
privacy policy page.
On How Many Devices Can I Run BulletVPN Simultaneously?
A single BulletVPN subscription can be used on up to six devices at once, allowing you to connect to VPN servers on all of them at the same time. BulletVPN can be installed on as many devices as you want.
Does BulletVPN Support P2P Applications?
Yes, you can use BulletVPN with P2P apps.
What is a VPN Kill Switch?
A Kill Switch prevents VPN connections from abruptly terminating, leaving your connection exposed and vulnerable. If a VPN server disconnects unexpectedly, the Kill Switch prevents your device from accessing the internet at all. Please see this tutorial for more information on
how to turn the Kill Switch feature
on and off.
What is BulletShield?
BulletShield is an extra layer of protection that limits your device's internet access to the VPN connection. Unless you connect through one of their VPN servers, you will not be able to access the internet.