OkayFreedom is a website that has been around for a long time. The VPN service is headquartered in Berlin, Germany, and was founded in 2012 by the technology firm Steganos Software GmbH.
This is unsettling news for users who want to keep their data safe from prying eyes. Because Germany is a member of the Fourteen Eyes Alliance, this is the case. But we'll get to that later.
A quick glance at its website reveals one thing right away: OkayFreedom isn't one for boasting.
Most of the top VPN providers brag about their self-proclaimed best-in-industry rankings and extensive feature sets. That is not the case with this service.
The VPN does not provide a lot of technical information about the services it provides. Because it's aimed at regular people who aren't tech savvy. The company only states that it provides "okay" service.
Even so, there are a lot of VPNs that aren't even close to that. As a result, this is a claim that needed to be verified. As a result, I had to get OkayFreedom.
I've put it through its paces and will provide a detailed report in this OkayFreedom review.
So, let's get started.
Features of OkayFreedom VPN
OkayFreedom clearly states in its privacy policy that no user information is stored on its servers. This means you don't have to be concerned about your data logs being saved or forwarded. It also has a free version with a monthly data limit of 500 MB.
There isn't a whole lot else to go on. Some features that I've come to expect from VPN services, such as a kill switch, are conspicuously absent here.
Windows Support
OkayFreedom is not cross-platform software at the moment. Only Windows users will be able to use the app. There isn't even a mobile app or support for routers.
OkayFreedom VPN, on the other hand, works with all browsers. Of course, they must be compatible with Windows.
You can install the OkayFreedom VPN browser extension for Chrome after you've downloaded the VPN for your PC. It doesn't have a lot of features, and you can't even open it once it's installed. However, it will assist you in bypassing geo-blocking on websites.
At any given time, you can only use your subscription on one device. Many other VPNs, on the other hand, allow you to connect to multiple devices with a single account.
Auto Launch
It's all too easy to forget to launch the app when it first starts up.
Thankfully, OkayFreedom anticipated this. You can set the app to launch automatically as soon as your device turns on. Simply go to Settings and ensure that the option is enabled.
You can even set the app to automatically connect to a VPN server as soon as you launch it.
No Registration
To use a VPN service, you usually need to register. Personal information such as your name, zip or postal code, city, and email address are required during the sign-up process.
This is a step that the more privacy-conscious users could do without.
However, here's the deal:
If you download the free version of OkayFreedom VPN, you won't have to deal with this. You will not be required to enter any information.
All you have to do now is start the OkayFreedom app after you've completed the download and installation process.
That's all there is to it.
Multiple Languages
Many VPN services only have English available as a language option. This isn't a problem for most people.
OkayFreedom takes it a step further by adding German and Japanese to the mix.
Advanced Features of OkayFreedom VPN
Despite the lack of fancy features like Double VPN, dedicated IP addresses, or Stealth VPN, this tool has the potential to surprise you.
Smart Shopper
First and foremost, in order to use this tool, you must first download the OkayFreedom Chrome extension.
This is a cool little feature for online shoppers. Smart Shopper can be very useful if you prefer to look around a bit before making a decision (don't we all?).
Let's say you go to an online store and choose a product you like. Smart Shopper searches the internet for other stores that sell that product at a lower price.
The app will notify you if it finds any. As a result, you may be able to save money on each purchase.
OkayFreedom VPN Servers and Locations
The company does not disclose the number of servers that it supports. According to some OkayFreedom app reviews, the number is 40. According to a manual count on the app, there are currently 23 locations.
It isn't the VPN industry's largest network. It is, in fact, a very limited one. Especially when compared to other tools of the same type.
If you choose the premium plan, you will have unlimited server switching. This means that you can switch between the available options as often as you like, as the name implies.
OkayFreedom VPN Speed
I used the online tool Speedtest by Ookla to conduct a speed test for our OkayFreedom review.
I first tested our connection speed without using the VPN. This is what I got as a result:

After that, I connected to a US server and repeated the test. This time, the outcome was as follows:

When comparing the two results, you can see that download speeds have decreased by about 55 percent, indicating a significant drop in performance. Upload speeds, on the other hand, remained consistent.
Connecting to servers in Canada and Romania at random yielded similar results.
In general, the speed test results for this OkayFreedom VPN review were lacking. It's important to remember, though, that they're not all the same. While a VPN will undoubtedly reduce your internet speed, the magnitude of the decrease is dependent on a number of factors.
They include:
ISP performance
Distance from the server location
Server load
Protocols
Encryption strength
Note: You can only connect to servers outside the US on the OkayFreedom VPN premium plan.
OkayFreedom VPN Privacy and Jurisdiction
OkayFreedom is based in Germany, which is a member of the Fourteen Eyes Alliance. If you're unfamiliar with the term, it refers to a group of countries that collaborate to share and exchange intelligence.
This includes resident internet users' browsing activities that are of interest to a member country. Clearly, this is not an arrangement that prioritizes data privacy.
The country has enacted some consumer-friendly data retention laws on its own. This has not, however, been reflected in its actions. Its Federal Intelligence Service, BND, has a history of working with the National Security Agency of the United States.
On the plus side, OkayFreedom has no data to hand over if the German government continues to do so.
The VPN service is concerned about user privacy. The company's privacy policy makes this clear. It claims that:

This means the company does not keep any traffic logs. Despite the lack of an independent audit to confirm this, I have no reason to doubt it.
OkayFreedom VPN Security and Protocols
OkayFreedom uses 256-bit AES encryption to protect its users' data. Many premium providers use this military-grade encryption, which is the current industry standard. OkayFreedom gets a thumbs up from us.
While I like the encryption, I discovered another problem. When user data reaches its destination, the company does not reveal the key it uses for session establishment.
I decided to send an email to the vendor asking for more information for this OkayFreedom VPN review. A few days later, I received a response. It did not provide an answer to our query.
OkayFreedom uses OpenVPN as its encryption protocol, which is widely regarded as the most secure configuration tool available. It would have been nice to have more options, though. Other common tunneling protocols include IPSec, IKEv2, and L2TP/IPSec, among others.
OkayFreedom VPN Leak Test Results
Your VPN should shield your IP address and DNS requests from prying eyes.
This is why I ran some IP and DNS leak tests with the tool. This was accomplished with the help of IPLeak.

As you can see, it says I'm from the United States, which is exactly what I wanted. It found up to 87 DNS servers, all of which were located in the United States. Our exact location was kept a secret.
OkayFreedom VPN and Streaming Services
Choose another VPN service if you're a streaming addict.
OkayFreedom claims on its website that you can get free access to blocked videos from all over the world. However, this is not the case. I put OkayFreedom's claims to unblock streaming services to the test for this review.
I began by attempting to unblock Netflix. I received an error message from the streaming service as soon as it detected that I was using a VPN.
Unblocking Netflix Canada, Amazon Prime Video, and Hulu was also unsuccessful.
On the plus side, YouTube and British services ITV Hub and Channel 4 are unblocked.
How Good Is OkayFreedom VPN for Torrenting?
As long as you are a paid subscriber, OkayFreedom allows you to download and share files via P2P. The activity itself yielded a mixed bag of results. However, there are some factors that influence your speed, such as your location and the server you use.
But be careful: the lack of a kill switch means your traffic is always at risk of being exposed. If you've ever used peer-to-peer (P2P) sharing, you know how bad this is.
There's one more reason to be cautious. Germany, OkayFreedom's home country, is actively cracking down on copyrighted material downloads.
If you're looking for a P2P-friendly VPN service, there are certainly better options.
Can OkayFreedom VPN Bypass Geoblocks?
VPNs are legal in most countries, despite the fact that they help you bypass geo-restrictions. However, there are exceptions, such as China, Russia, Iraq, and North Korea.
The Chinese government uses the so-called Great Firewall, a vast technological system, to censor and regulate the internet. Even with most VPNs, getting around is difficult.
OkayFreedom's small network contains no obfuscated VPN servers, which hide your VPN activity.
Ease of Use
OkayFreedom VPN is only available on Windows, and its client appears to go a little too far in terms of ease of use.
In terms of design, the VPN receives a low rating. To begin with, there isn't much in the way of a user interface.
After you've downloaded and installed OkayFreedom for free or premium, you can find it in your desktop's notification area.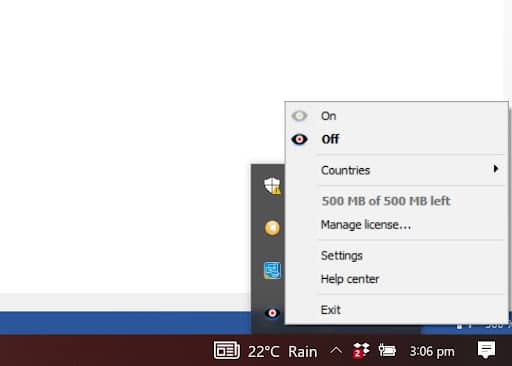 When you launch the app, it only displays a pop-up screen with limited functionality. The majority of the software is a banner for advertisements if you use the free version.
You can turn on and off the VPN, switch between server locations, go to Settings, and get help.
There's also not a lot of room for improvement. That's all there is to it. You can change the language and a few other things.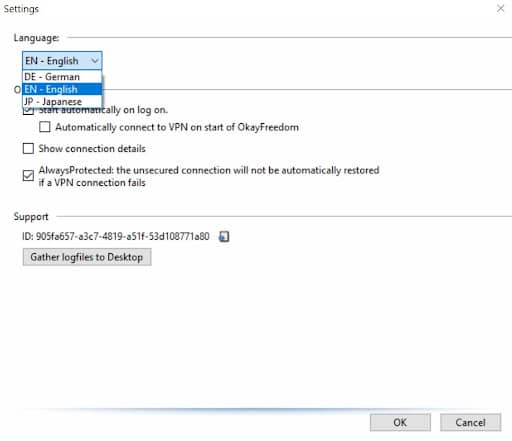 Customer Support
Users can get information from OkayFreedom VPN through two channels: FAQ and email.
The FAQ page is basic, answering only a few troubleshooting questions. If you require any information not covered by the FAQs, you may contact a representative via email.
However, don't expect a response right away. As I mentioned earlier, I sent an email to test the customer service for this OkayFreedom VPN review. I waited for a long time and received an irrelevant response.
Even so, other customer support channels such as phone support, live chat, and a knowledge base are noticeably absent. There aren't even any social media pages that are active. The most recent post on OkayFreedom's Facebook page was in 2018.
OkayFreedom VPN Pricing
There are no monthly contract plans or tiers offered by the company. There is a single yearly subscription fee for all users to join the premium plan.
A full year of internet privacy is currently $19.95, a savings of $29.95 over the usual price. That works out to a mind-boggling $1.66 per month.
When compared to other options, this is the most cost-effective option. To go with the price, you'll have to consider that you're getting fewer features than many others.
OkayFreedom offers a limited free version if you don't want to pay for a subscription. This version does not include unlimited bandwidth, and data usage is limited to 500 megabytes per month.
If you submit referrals, you can get more bandwidth on the free plan. You will receive an additional 100 MB for each referral.
A 30-day money-back guarantee is available on the paid plan for a risk-free, more complete experience.
OkayFreedom VPN Review — Verdict
Is OkayFreedom VPN something I would recommend?
Not always.
There are some aspects of this VPN that I like, such as its low price and strict zero-logs policy.
However, in a highly competitive industry, these are insufficient.
OkayFreedom's feature set isn't particularly impressive. It is deficient in basic capabilities.
If the vendor wants to compete with even mid-tier VPN providers, it will have to step up its game.
All things considered, OkayFreedom is a fantastic option for the casual user.
Choose another vendor if you want something powerfully built with a large number of high-speed servers.