The WordPress Dashboard is the first screen you'll see when you log into your blog's administration area, and it shows you an overview of the site. It's a collection of tools that provide information and an overview of your blog's current state. You can tailor your needs by using quick links such as writing a quick draft, responding to the most recent comment, and so on.
Dashboards can be classified as shown in the image below. The following sections go over each of these categories in detail.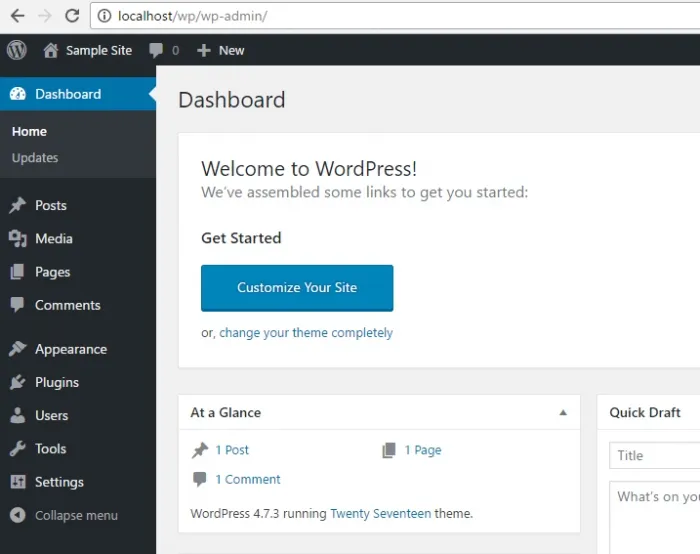 Dashboard Menu
On the left side of the WordPress Dashboard, there is a navigation menu with options such as posts, media library, pages, comments, appearance options, plugins, users, tools, and settings.
Screen Options
The dashboard has a variety of widgets that can be displayed or hidden on different screens. It includes check boxes for displaying or hiding screen options, as well as the ability to customize sections of the admin screen.
Welcome
It has a Customize Your Site button that allows you to change the look of your WordPress theme. The center column contains some useful links, such as creating a blog post, creating a page, and viewing your website's front end. The last column contains links to widgets, menus, comment settings, and a link to the WordPress codex's First Steps With WordPress page.
Quick Draft
Quick Draft is a mini post editor that allows you to write, save, and publish a post directly from the admin dashboard. It contains the draft's title, some notes about the draft, and the option to save it as a draft.
WordPress News
The WordPress News widget shows the most recent news from the official WordPress blog, such as the most recent software version, updates, alerts, and software news, among other things.
Activity
The Activity widget displays the most recent comments on your blog, as well as recent posts and posts that have recently been published. You can approve, disapprove, reply, edit, or delete a comment using this tool. It also lets you move a comment to the spam folder.
At a Glance
This section displays a summary of your blog's posts, including the number of published posts and pages, as well as the number of comments. These links will take you to the appropriate screen when you click on them. It shows the current WordPress version as well as the theme that is currently active on the site.